Welcome to the vibrant and culturally rich country of Qatar, where the blend of tradition and modernity creates a unique and captivating atmosphere. If you're planning a trip to this fascinating destination, one of the most critical aspects of your journey will be finding the perfect place to stay. Qatar boasts a plethora of world-class hotels, each offering its own distinctive charm and opulence. In this comprehensive guide, we will take you on a journey through the best hotels in Qatar, helping you make an informed decision for a comfortable and unforgettable stay.
The Importance of Choosing the Right Hotel
Choosing the right hotel is crucial to the success of your trip. It can significantly impact your overall experience, from the quality of your sleep to the convenience of your location. Here are some key factors to consider when selecting the best hotel in Qatar:
Location Matters: The first consideration should always be the location. Do you want to stay in the heart of Doha, close to the business district and major attractions, or do you prefer a quieter coastal retreat? Your choice will depend on your travel objectives.
Budget and Luxury: Define your budget early on. Qatar offers a wide range of hotels, from budget-friendly options to lavish, five-star resorts. Knowing your budget will help narrow down your choices.
Amenities and Services: Consider the amenities and services offered by the hotel. Do you need a gym, spa, or a swimming pool? Are you looking for concierge services or shuttle transfers? Make a list of your priorities.
Reviews and Recommendations: Read online reviews and seek recommendations from friends or travel forums. Real experiences from fellow travelers can provide valuable insights into what to expect.
The Grandeur of Five-Star Luxury Hotels in Qatar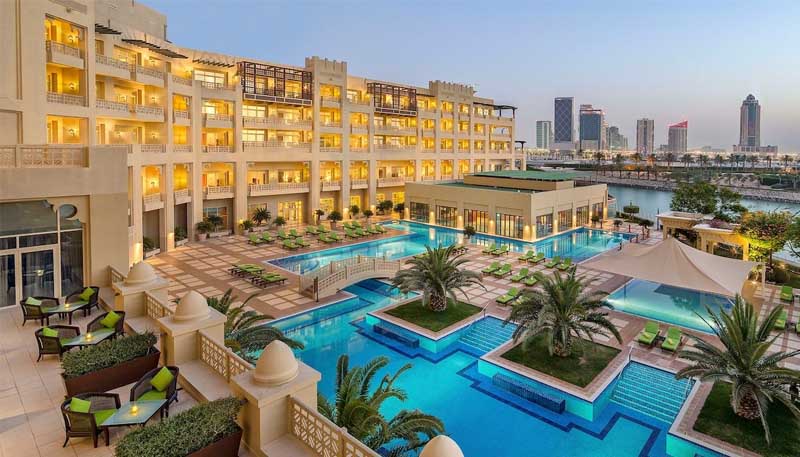 If luxury is what you seek, Qatar has an array of five-star hotels that will cater to your every need. Here are some of the best options:
The St. Regis Doha: The St. Regis Doha is an epitome of luxury and sophistication. Located along the pristine West Bay, this iconic hotel offers lavish rooms with stunning sea views. Guests can indulge in the hotel's private beach, exquisite dining options, and the renowned St. Regis Butler Service, ensuring a truly memorable stay.
Four Seasons Hotel Doha: Nestled in the heart of the city, the Four Seasons Hotel Doha offers impeccable service and breathtaking views of the Arabian Gulf. The hotel boasts an array of restaurants, a rejuvenating spa, and a lavish pool area, making it a top choice for luxury travelers.
Mondrian Doha: Designed by renowned architect Marcel Wanders, the Mondrian Doha is a visual masterpiece. The hotel combines artistic flair with luxury, featuring uniquely designed rooms and an array of dining and entertainment options, including the famous CUT by Wolfgang Puck.
Affordable Luxury Hotels in Qatar Without Compromise
If you're looking for a blend of comfort and affordability, Qatar offers several mid-range hotels that provide excellent value for your money:
Radisson Blu Hotel Doha: The Radisson Blu Hotel Doha is centrally located and offers comfortable rooms with modern amenities. Guests can enjoy the rooftop pool, fitness center, and a variety of dining options, including the popular Italian restaurant, Certo.
Oryx Rotana Doha: Conveniently located near Hamad International Airport, the Oryx Rotana Doha provides a seamless experience for business travelers. The hotel boasts spacious rooms, multiple dining choices, and a fully equipped business center.
Ezdan Hotel Doha: Ezdan Hotel Doha offers spacious apartments with kitchen facilities, making it an excellent choice for families and long-term travelers. The hotel features a fitness center, swimming pools, and a range of dining options, all at an affordable price point.
Charming Boutique Hotels in Qatar
For travelers who prefer a more intimate and personalized experience, boutique hotels in Qatar offer a charming and unique stay:
Souq Waqif Boutique Hotels: Located within the historic Souq Waqif, this collection of boutique hotels captures the essence of Qatari culture. Each hotel has its own distinctive character, providing an immersive experience in the heart of Doha's heritage district.
The Avenue, a Murwab Hotel: This chic boutique hotel in West Bay offers stylish rooms and personalized service. The Avenue is known for its rooftop pool with panoramic views, making it an excellent choice for couples and honeymooners.
Musherib Hotel: Nestled in the heart of Doha's old town, Musherib Hotel offers a blend of tradition and modernity. The hotel's elegant rooms and courtyard create a tranquil oasis in the midst of the bustling city.
Comfort and Convenience Hotels in Qatar for Family Travel
Traveling with family requires special consideration, and Qatar has several family-friendly hotels that cater to the needs of parents and children alike:
Sheraton Grand Doha Resort & Convention Hotel: The Sheraton Grand Doha Resort offers spacious family rooms and a dedicated kids' club, making it an excellent choice for families. Parents can unwind at the beach or one of the many restaurants while children enjoy supervised activities.
The Ritz-Carlton, Doha: The Ritz-Carlton, Doha provides a family-friendly atmosphere with amenities such as a private beach, pools, and a children's playground. The hotel's spacious suites are perfect for accommodating families of all sizes.
Grand Hyatt Doha Hotel & Villas: Situated on the shores of the Arabian Gulf, the Grand Hyatt Doha features family-friendly villas with private pools. The hotel also offers a kids' club, making it an ideal choice for families seeking both luxury and convenience.
Unforgettable Desert Hotels in Qatar
Escape the bustling city and immerse yourself in the serenity of the desert at these unique retreats:
Banana Island Resort Doha by Anantara: Accessible only by boat, Banana Island Resort offers a tropical paradise in the heart of the Arabian Gulf. Guests can relax on the pristine beach, indulge in spa treatments, and savor exquisite cuisine.
Sealine Beach, a Murwab Resort: Located along the tranquil shores of Sealine Beach, this resort provides a serene desert escape. Guests can enjoy water sports, desert excursions, and stunning sunsets over the dunes.
Zekreet Beach Resort: Nestled on the outskirts of the city, Zekreet Beach Resort offers a rustic desert experience with comfortable accommodations. Explore the nearby film city and marvel at the natural beauty of the Zekreet Peninsula.
Dining Excellence Hotels in Qatar
One of the perks of staying in Qatar's top hotels is the opportunity to indulge in exquisite dining experiences. Many of these establishments boast world-class restaurants that will tantalize your taste buds. Here are some of the culinary delights you can look forward to:
La Cigale Hotel: La Cigale Hotel in Doha is renowned for its diverse dining options. Be sure to visit the luxurious Sky View Bar with panoramic city views and the award-winning signature restaurant, Le Central, serving gourmet French cuisine.
Marsa Malaz Kempinski, The Pearl – Doha: This lavish hotel is home to a variety of dining venues, including the iconic Illusion, a floating restaurant offering an exceptional seafood dining experience. Their Amwage restaurant is also known for its Middle Eastern flavors.
Sharq Village & Spa, a Ritz-Carlton Hotel: For an authentic Qatari dining experience, head to Al Liwan restaurant at Sharq Village. This hotel offers a chance to savor traditional dishes in a setting that beautifully reflects Qatari heritage.
Exploring Qatar's Attractions
When you choose the right hotel in Qatar, you'll find that many of the country's top attractions are easily accessible. Here are a few must-visit places and how your hotel choice can enhance your exploration:
Museum of Islamic Art: Located on the Corniche in Doha, the Museum of Islamic Art is a cultural gem. Staying in a hotel near the Corniche, such as the St. Regis Doha or Four Seasons Hotel Doha, allows you to easily explore this architectural masterpiece and its priceless collection.
Souq Waqif :The historic Souq Waqif is a must-visit destination for shopping, dining, and soaking up Qatari culture. Staying at one of the boutique hotels within the souq, like Souq Waqif Boutique Hotels, gives you an authentic and immersive experience.
Katara Cultural Village: Katara Cultural Village is a hub of arts, culture, and entertainment. The Sheraton Grand Doha Resort & Convention Hotel is conveniently located nearby, making it an ideal base for exploring Katara's many events and exhibitions.
Wellness and Relaxation Hotels in Qatar
A luxurious hotel stay in Qatar often includes access to world-class spa and wellness facilities. Here are a few hotels where you can pamper yourself:
The Ritz-Carlton, Doha: The Ritz-Carlton Spa offers a range of rejuvenating treatments and therapies. Relax in the tranquil setting and enjoy personalized wellness experiences during your stay.
Mondrian Doha: Mondrian's ESPA spa is a sanctuary of relaxation. Indulge in signature treatments and enjoy the rooftop pool with spectacular views of Doha's skyline.
Banana Island Resort Doha by Anantara: The resort's Anantara Spa is an oasis of serenity. Experience holistic wellness treatments and therapies while surrounded by the beauty of the island.
Business Travel Hotels in Qatar
For business travelers, convenience and efficiency are paramount. These hotels in Qatar cater to your professional needs:
JW Marriott Marquis City Center Doha: Located in the West Bay business district, this hotel offers state-of-the-art meeting facilities and a business center, making it a top choice for corporate travelers.
The Westin Doha Hotel & Spa: This hotel provides a peaceful retreat for business travelers with spacious workspaces and quick access to the airport, making your work trip efficient and comfortable.
InterContinental Doha – The City: Situated in the heart of West Bay, this hotel offers an array of business amenities, including meeting rooms and a dedicated events team to assist with your conferences and events.
Environmental Consciousness Hotels in Qatar
As sustainability becomes a more significant concern for travelers, several hotels in Qatar are committed to eco-friendly practices:
The Torch Doha: The Torch is known for its energy-efficient design, with a remarkable exterior featuring 360-degree LED lights. It's a prime example of a hotel that prioritizes sustainability.
Al Messila, a Luxury Collection Resort & Spa: This resort has received awards for its green initiatives. It boasts an on-site farm that supplies its restaurants with fresh produce, reducing the carbon footprint.
Msheireb Downtown Doha: The Msheireb Downtown Doha project focuses on sustainable urban development. When completed, it will offer eco-conscious accommodations, including hotels designed with environmental sustainability in mind.
Best Hotels in Qatar for Cultural Experiences
To truly appreciate Qatar's culture, your hotel choice can play a significant role:
Souq Waqif Boutique Hotels: As mentioned earlier, staying within the Souq Waqif allows you to immerse yourself in the heart of Qatari culture. Explore the souq's vibrant streets, watch traditional performances, and sample local cuisine.
Sharq Village & Spa, a Ritz-Carlton Hotel: This hotel's architecture and design pay homage to Qatari heritage. Take part in activities like pearl diving or henna painting to gain a deeper understanding of the country's traditions.
Katara Cultural Village: Several hotels near Katara, such as The St. Regis Doha, provide easy access to the village's cultural events, exhibitions, and performances.
Best Hotels in Qatar for Adventure and Outdoor Activities
For those seeking adventure, Qatar offers a surprising array of outdoor activities:
Banana Island Resort Doha by Anantara: Water sports enthusiasts will love Banana Island Resort's diving and snorkeling opportunities. Explore the coral reefs and marine life in the warm waters of the Arabian Gulf.
Sealine Beach, a Murwab Resort: Experience thrilling dune bashing and desert safaris in the nearby Sealine area. The resort can arrange these adventures for you.
Zekreet Beach Resort: Explore the Zekreet Peninsula's unique landscapes with its lunar-like rock formations and historic film city. The resort's location provides easy access to these natural wonders.
Booking Tips and Final Thoughts
Now that you've explored some of the best hotels in Qatar across various categories, it's time to make your reservation. Here are a few booking tips to ensure a seamless experience:
Book in Advance: Qatar is a popular destination, so it's advisable to book your hotel well in advance, especially during peak tourist seasons.
Consider Packages: Many hotels offer special packages that include meals, airport transfers, and other perks. These can often provide great value for your money.
Loyalty Programs: If you're a member of a hotel chain's loyalty program, be sure to use it to earn points and enjoy benefits during your stay.
As you embark on your journey to Qatar, armed with the knowledge of the best hotels the country has to offer, you can look forward to a remarkable experience. Whether you're here for business, leisure, cultural exploration, or relaxation, the best hotels in Qatar will provide you with the perfect setting for a memorable stay.
Take the time to choose the hotel that aligns with your preferences and objectives, and Qatar's warm hospitality will ensure that your adventure is nothing short of extraordinary. Safe travels and enjoy your time in this captivating Middle Eastern gem!