France, known for its rich history, stunning landscapes, and delectable cuisine, is a dream destination for travelers from around the world. Whether you're planning a romantic getaway, a family vacation, or a solo adventure, one of the most crucial aspects of your trip is choosing the right accommodation. In this beginner's guide, we'll take you on a journey through the best hotels in France, helping you make an informed choice that suits your preferences and budget.
Parisian Elegance Hotels in France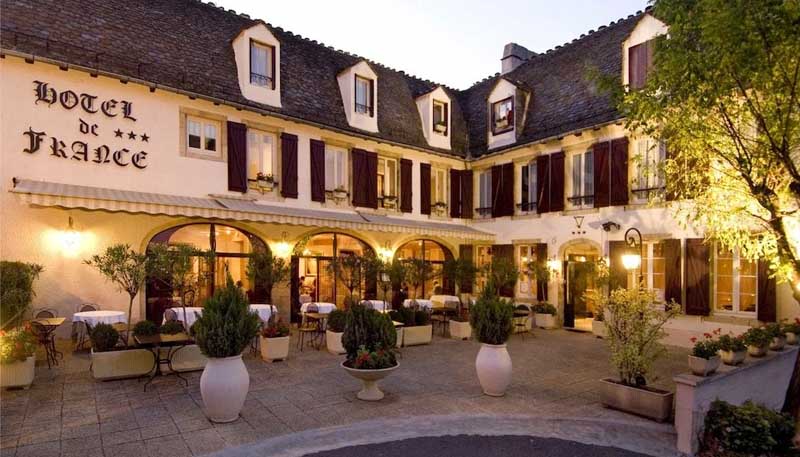 When it comes to luxury and sophistication, Paris stands out as a top destination. The City of Love boasts a plethora of world-class hotels that cater to every traveler's desires.
1. Le Meurice – Where History Meets Luxury
Located in the heart of Paris, Le Meurice is a palace hotel that exudes elegance. With its classic French architecture and stunning views of the Tuileries Garden, this hotel is a favorite among discerning travelers. The rooms are exquisitely decorated, and the hotel houses a two-Michelin-starred restaurant, Le Meurice Alain Ducasse, where you can savor exquisite French cuisine.
2. The Ritz Paris – A Timeless Icon
For those seeking timeless luxury, The Ritz Paris is an iconic choice. Frequented by celebrities and royalty, this hotel offers opulent rooms and impeccable service. Don't miss the chance to sip champagne at the Bar Hemingway, named after the legendary writer who was a regular patron.
3. Hotel de Crillon – A Royal Experience
Overlooking the Place de la Concorde, Hotel de Crillon is another Parisian gem. This historic hotel, which once hosted Marie Antoinette, offers a blend of old-world charm and modern amenities. Indulge in spa treatments, dine at the Michelin-starred L'Ecrin, and experience the epitome of French luxury.
4. Shangri-La Hotel Paris – A View to Remember
Situated in a former royal palace, the Shangri-La Hotel Paris offers breathtaking views of the Eiffel Tower. The rooms are tastefully decorated, and the hotel features a beautiful garden terrace where you can enjoy afternoon tea. It's a perfect choice for those who want to combine luxury with cultural immersion.
Charming Countryside Hotels in France
While Paris may be the epitome of French elegance, France's countryside offers a different kind of charm. Here are some enchanting options for a peaceful getaway.
5. Château de Berne – Provencal Paradise
Tucked away in the picturesque Provence region, Château de Berne is a luxurious escape surrounded by vineyards and olive groves. The rooms are decorated in a rustic yet elegant style, and the hotel boasts a renowned restaurant, Le Jardin de Benjamin, where you can savor the flavors of Provencal cuisine.
6. Domaine de Manville – Rustic Luxury in Les Baux-de-Provence
Located in the heart of Les Alpilles, Domaine de Manville is a five-star hotel that combines rustic charm with modern comforts. The rooms feature stone walls and wooden beams, creating a cozy atmosphere. Golf enthusiasts will appreciate the on-site 18-hole golf course, while foodies can indulge in regional specialties at the hotel's restaurant.
7. Châteauform – A Castle Stay in Normandy
For a fairytale experience, consider staying at Châteauform in Normandy. This historic castle has been transformed into a charming hotel with individually decorated rooms. Explore the lush gardens, enjoy a game of tennis, or simply relax by the fireplace with a glass of local cider.
8. Château de Villiers-le-Mahieu – Serenity near Versailles
If you want to combine a countryside retreat with easy access to Paris, Château de Villiers-le-Mahieu is an excellent choice. This 17th-century château offers spacious rooms and beautiful gardens. Take a day trip to the Palace of Versailles or enjoy a leisurely bike ride in the surrounding forests.
Coastal Splendor Hotels in France
France's coastline is adorned with picturesque towns and stunning seaside hotels that offer a different kind of charm. Here are some of the best options for a beachside getaway.
9. Hotel Negresco – Artistic Elegance in Nice
In the glamorous city of Nice, Hotel Negresco stands as a symbol of art and luxury. This iconic hotel features a stunning Belle Époque facade and houses an impressive art collection. Enjoy Mediterranean cuisine at the Michelin-starred Le Chantecler restaurant and soak in the sea views from your room.
10. Hotel du Cap-Eden-Roc – A Riviera Paradise
Perched on the tip of Cap d'Antibes, Hotel du Cap-Eden-Roc offers unparalleled views of the French Riviera. The hotel's lush gardens, private beach, and elegant rooms make it a favorite among celebrities and jet-setters. Unwind by the saltwater pool or dine at the scenic Eden-Roc Restaurant.
11. Les Roches Rouges – Seaside Tranquility
For a more tranquil coastal experience, Les Roches Rouges in Saint-Raphaël is a hidden gem. This boutique hotel boasts direct access to the Mediterranean Sea and offers minimalist yet stylish rooms. Relax by the infinity pool, explore the nearby Calanques, or savor Mediterranean dishes at La Plage restaurant.
12. La Co(o)rniche – Beachfront Bliss in Arcachon
On the Atlantic Coast, La Co(o)rniche in Arcachon is a beachfront paradise. Designed by Philippe Starck, this boutique hotel offers unique, nautical-themed rooms and panoramic views of the Bay of Arcachon. Enjoy oysters at the hotel's La Co(o)rniche Café or take a boat trip to explore the nearby sand dunes.
Alpine Retreats Hotels in France
If you're a fan of winter sports or simply love the beauty of the mountains, France's alpine region has some exceptional hotels to offer.
13. Hotel Les Granges d'en Haut – Cosy Comfort in Chamonix
In the charming town of Chamonix, Hotel Les Granges d'en Haut offers cozy chalet-style accommodations. After a day of skiing or hiking, unwind in your private hot tub and enjoy panoramic views of Mont Blanc. The hotel also features a spa and a restaurant serving Savoyard specialties.
14. L'Apogée Courchevel – Luxury in the French Alps
For the ultimate alpine luxury experience, head to Courchevel and stay at L'Apogée Courchevel. This ski-in/ski-out hotel features spacious rooms, a Michelin-starred restaurant, and a stunning spa. Whether you're hitting the slopes or sipping hot chocolate by the fireplace, this hotel promises an unforgettable winter retreat.
15. Les Fermes de Marie – Rustic Charm in Megève
Nestled in the picturesque village of Megève, Les Fermes de Marie offers a rustic alpine experience. The rooms are decorated in a traditional chalet style, and the hotel has a delightful spa and several restaurants. Explore the cobbled streets of Megève or indulge in après-ski treats at the hotel's bar.
Booking Your French Hotel
Now that you've discovered some of the best hotels in France, it's time to make your reservation. Here are some tips for booking your dream hotel in the land of romance and elegance.
Online Booking Sites
The easiest way to book a hotel in France is through online booking sites like Booking.com, Expedia, or Airbnb. These platforms offer a wide range of options, allowing you to filter hotels based on your preferences, budget, and location.
Direct Booking
Consider booking directly through the hotel's official website. Sometimes, hotels offer special deals, exclusive packages, or room upgrades to guests who book directly. It's also a more secure way to make reservations.
Read Reviews
Before finalizing your booking, be sure to read reviews from previous guests. Websites like TripAdvisor and Yelp can provide valuable insights into the hotel's quality, service, and overall experience.
Check Cancellation Policies
Life can be unpredictable, so it's wise to check the hotel's cancellation policies before booking. Some hotels offer flexible cancellation options, while others may have strict policies.
Packing for Your French Adventure
With your hotel reservation confirmed, it's time to start packing for your French adventure. Here's a checklist to ensure you're well-prepared for your trip.
Clothing
Pack clothing suitable for the season and region you'll be visiting. In the summer, lightweight and breathable fabrics are ideal, while winter calls for warm layers and waterproof gear if you plan on outdoor activities.
Travel Documents
Don't forget your passport, visa (if required), travel insurance, and any necessary vaccination certificates. Make photocopies of these documents and keep them in a separate place as a backup.
Electrical Adapters
France uses the Europlug Type C and Type E electrical outlets. Make sure to bring the right adapters and voltage converters if your devices require them.
Medications and Toiletries
Pack any prescription medications you need, as well as a basic first-aid kit. Bring travel-sized toiletries or purchase them upon arrival.
Language Tools
While many people in France speak English, it's helpful to have a basic understanding of French phrases. Consider bringing a pocket-sized French-English dictionary or a translation app on your smartphone.
Exploring France
Now that you're well-prepared, it's time to explore the diverse beauty and culture of France. Here are some tips for making the most of your trip.
1. Local Cuisine
France is a culinary paradise, so don't miss the opportunity to savor local dishes. Try croissants and café au lait for breakfast, indulge in cheese and baguettes for lunch, and enjoy a leisurely dinner at a cozy bistro.
2. Cultural Etiquette
Respect local customs and etiquette. In France, it's customary to greet with a kiss on each cheek, use polite language, and avoid loud behavior in public places.
3. Public Transportation
France has an excellent public transportation system, including trains, trams, and buses. Consider purchasing a transportation pass for convenience and savings.
4. Explore Beyond the Cities
While Paris is a must-visit, don't forget to explore the countryside, coastal towns, and alpine regions. Each part of France offers unique experiences and landscapes.
Safety and Health
Safety is a top priority when traveling. Here are some safety and health tips to ensure a worry-free trip.
1. Travel Insurance
Invest in comprehensive travel insurance that covers medical emergencies, trip cancellations, and lost belongings. It's a wise precaution.
2. Emergency Contacts
Keep a list of emergency contacts, including the local embassy or consulate, local emergency services, and your hotel's contact information.
3. Stay Hydrated
French summers can be hot, so stay hydrated, especially if you're exploring outdoors. Carry a reusable water bottle and refill it throughout the day.
4. Health Precautions
Check if any vaccinations are required before traveling to France. Additionally, be aware of any local health advisories or precautions.
Souvenirs and Mementos
As your trip comes to an end, don't forget to pick up some souvenirs and mementos to remind you of your unforgettable journey.
1. Local Markets
Explore local markets for unique souvenirs like handmade crafts, regional foods, and artisanal products.
2. Wine and Cheese
France is renowned for its wine and cheese. Consider bringing back a bottle of French wine or a selection of artisanal cheeses.
3. Postcards and Photos
Send postcards to loved ones or create a photo album of your trip to cherish the memories forever.
4. Cultural Keepsakes
Collect cultural keepsakes such as artwork, jewelry, or fashion items that reflect the region's heritage.
Conclusion
In conclusion, France offers a wide array of luxurious and charming hotels to suit every traveler's taste and preferences. Whether you're seeking the elegance of Paris, the tranquility of the countryside, the beauty of the coast, or the adventure of the Alps, France has it all. By following this beginner's guide, you can make informed choices, book the best hotels, and create unforgettable memories in this captivating country. Bon voyage!
Additional Resources
To further enhance your trip to France, here are some additional resources and guides you may find helpful:
French Language Basics: Learn some essential French phrases to make your journey smoother.
Top Tourist Attractions: Explore the must-visit tourist attractions in France, from the Louvre Museum to the Palace of Versailles.
39. Packing Tips: Get expert advice on packing efficiently and packing for different seasons in France.
Travel Itineraries: Find sample itineraries for various regions in France to make the most of your time.
With these resources and your newfound knowledge of the best hotels in France, you're well-prepared for an unforgettable adventure in this beautiful and diverse country. Happy travels!